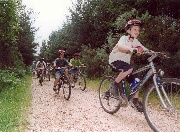 WoW Mums are taking the children to Swinley Forest on 28th May during half term to ride mountain bikes on famous  woodland Wellington Track. There is a free picnic area with a free playground in the middle of the forest as well as the Lookout DiscoveryCentre with a bird watching tower.
We are grateful to KLS and Providence House youth centres for letting us use their mini buses for free.
Please call 07811660580 if you wish to join the waiting list and attend on first come first served basis.