Chinese New Year Celebration started with inaugural Community Chef's demonstration how to cook delicious Hainanese chicken with rice (link to Recipe below).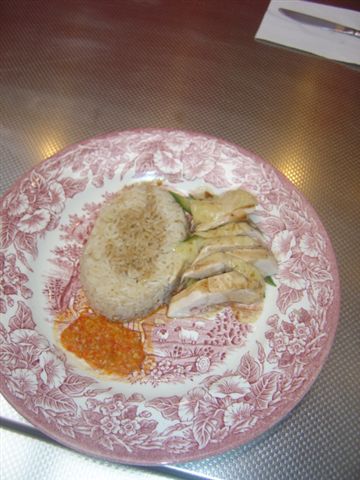 1 corn fed chicken, 1/2 cucumbar, 5 tbsp sesame oil,5 cm ginger root, spring onions, 2 tsp salt, water. Rub chicken with salt and oil. Stuff 1/2 ginger sliced and one spring onion branch into chicken. Put in a large pot with remaining ginger and spring onions. Cover it with water and let it boil for 15 mins.with lid on. Turn off heat and leave to simmer for 45 mis. Do not remove lid. Cut chicken in peaces and serve with long grain rice prepared with chicken stock from pot and sliced cucumbers with chilly sauce.
Prepare Chilli sauce with 1 whole clove of garlick finely chopped, 5cm ginger root finely chopped or blended, 4-6 fresh red chillies finely chopped, juice of one lemon or lime, 2 tsp sugar, 1 cup chicken stock, 1 tsp oil.